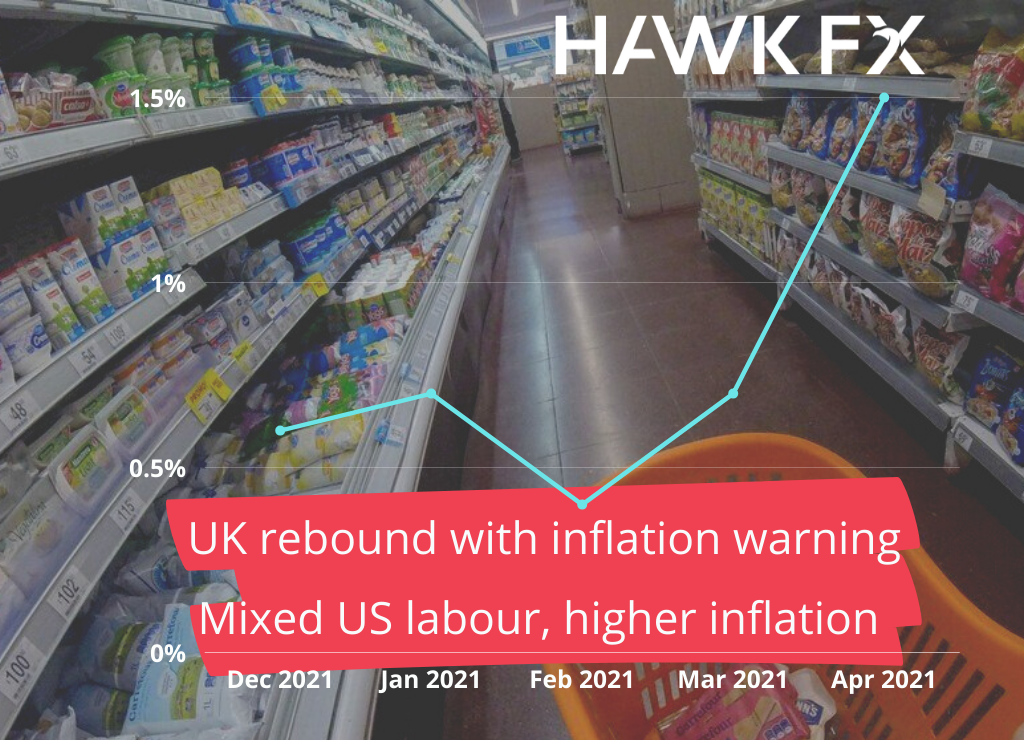 GBP – Strong rebound with inflation warning
One of the major questions facing most countries is whether the economic rebound will be strong and sustainable.  Last week, PMI readings for May confirmed that the rebound is still gathering pace in the UK.  Construction PMI was at an even higher 64.2 in May, from 61.6 in April.  The strong numbers also include an inflation warning as rising commodity prices, supply constraints and recruitment push up prices. 
We will see further evidence of the rebound from April GDP this week.  It will include the positive impact of the lifting of restrictions with expectations of a third monthly rise. Indicators such as the PMIs and retail sales suggest it will be a significant rise of close to 3%.  The services sector will likely lead the way, though there are also expected to be gains in construction and manufacturing. A significant rise would point to growth exceeding the Bank of England forecast of 4.3% second-quarter growth. 
The only thing that may curb optimism around the UK economy is worrying Covid news. There has been a further rise in cases in the UK of almost 40%. Public Health England has confirmed that the Indian variant is dominant in Britain and may increase the risk of hospitalisation. On the positive side, vaccinations continue at pace, though it may not be enough to allow restrictions to be lifted fully on 21st June.  
GBPEUR – 1.1624
GBPUSD – 1.4133
EUR – ECB to leave monetary policy on hold
The European Central Bank will provide its monetary policy announcement on Thursday.  This comes amidst a mixed economic background. In the first quarter, Eurozone GDP fell, taking the Eurozone into recession. The recent economic indicators point to a rebound which appears to be gathering pace this quarter.  Also, CPI inflation has moved up to 2% in line with the ECB's target. With 'core' inflation still below 1%, the ECB is likely to take the view that this is not close on a sustainable basis.  
Eurozone monetary policy is likely to be left unchanged, though the phase of faster asset purchases may be brought to an end sooner than previously thought.  Current expectations are that the faster pace will continue until September.  ECB President Lagarde is expected to continue with 'dovish' comments noting the risks to the downside. The ECB will also provide an update to its economic projections and may raise the growth and inflation forecasts. Eurozone PMIs were revised up, adding to expectations of a rebound this quarter.
EURUSD – 1.2158
EURGBP – 0.8603
USD – Mixed labour data, higher inflation expected
The data for the US labour market was mixed last week.  Non-farm employment grew by 559,000 which was stronger than April, but short of some forecasts. Unemployment did fall back to 5.9% from 6.1% in April.  We also saw earnings rise sharply again which will add to concerns around inflationary pressures.  The CPI inflation rate rose by much more than expected in April, to 4.2%.  A further increase is expected for May with the headline rate forecast at 4.7% and the core measure at 3.4% providing a further signal of near-term inflationary pressures.  The ISM manufacturing numbers rose to 61.2 from 60.7, with services even stronger at 64.0.
US central bank policymakers have already said that they are comfortable with a period of above-target inflation.  A further rise does not imply that the Fed will soon take policy action.  Unless oil prices continue to rise sharply, this month will probably be the peak inflation rate for 2021. It is uncertain how sharply inflation will fall back, however, particularly with current wage pressures. The Fed is clearly counting on the current pressures from commodity prices and supply chains easing.   They may also expect relatively high unemployment to keep wage costs under control.  Fed policymakers are now in their silent period ahead of the policy update on 16th June.  The markets will wait for any changes in language at that meeting following these inflation changes. 
GBPUSD – 1.4133
EURUSD – 1.2158
Do get in touch if you would like to discuss further.
*Interbank rates correct at 7 am on the date of publishing.