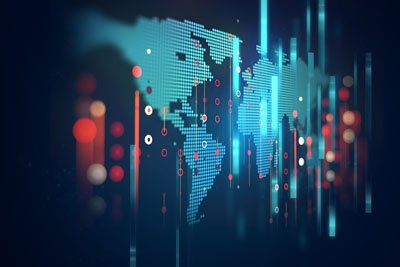 GBP – PMIs and PM May's meeting
Data continued to point to a robust economy with first quarter GDP revised up to 0.2% following stronger construction numbers along with stronger manufacturing PMI. Bank of England economist, Andy Haldane highlighted pay growth as key in his decision to vote for a rate hike.  With this in mind, speeches by Governor Mark Carney on Thursday and Andy Haldane on Saturday will be closely watched.
The PMI reports are expected to show further robust activity for the UK this week.   Manufacturing PMI growth today was slightly stronger than expected.  Construction and services PMIs are released on Tuesday and Wednesday respectively. We expect slight increases in both figures, which suggests the economy will grow by 0.4% in the second quarter.  Along with stronger GDP, this suggests further pressure on the Bank of England to raise rates in August. 
The pound, meanwhile, is at a relatively weak level, being pushed up by expectations of a rate hike and pulled down by Brexit uncertainties.  A major focus this week will be the Chequers Cabinet meeting on Friday to hammer out an agreed post-Brexit position. We understand that a third customs option will be debated. Business secretary Greg Clark has also discussed extending the Brexit transition period if required.
GBPUSD – 1.3152
EUR – German political talks
At the EU leaders' summit, a consensus was reached on migration to satisfy, both the Italians and the German coalition. However on Brexit, EU negotiator Barnier warned that 'serious divergences' remain on issues including the Irish border.   Political risks remain however as Germany's coalition partner's leader and interior minister, Horst Seehofer, offered to resign regarding the migration deal. Chancellor Merkel is due to hold emergency talks today. 
The flow of PMIs continues across the channel with France, Germany and eurozone numbers unlikely to surprise. We expect Eurozone unemployment to remain at 8.5%, while retail sales will probably fall after a sharp decline in Germany. With only slightly stronger inflation last week at 2% and no sign of a significant rebound in the second quarter, we don't expect the central bank to feel much pressure to change policy.  The ECB has already pushed out expectations of a hike until later in 2019.
EURUSD – 1.1635
EURGBP – 0.8846
USD – Tariff crunch time
The ongoing tariff conversations come to a head this week as the US will impose tariffs on $34bn of Chinese imports.  Last week President Trump proposed additional restrictions on the export of 'sensitive' tech whilst considering imposing 25% tariffs on imported cars. Though equities in China and Europe fell initially, markets rallied later in the week despite suggestions from the President that he may pull the US out of the WTO, but these uncertainties clearly have further to run. 
We are expecting further affirmation of strong US growth this week this ISM manufacturing figures. GDP growth is currently on track to come in above 4% per annum in the second quarter.  This would amount to growth in the first half of the year of around 3% annualised, which is substantially stronger than recent trends.  
As always, we will be closely watching the labour market data for headline changes in payroll numbers and wage growth.  This would suggest we will see a more hawkish Fed policy outlook.  The FOMC minutes should provide a more detailed explanation of the expected path for interest rates. The dot-plot from the last meeting showed an upward shift to four rate rises in 2018. 
GBPUSD – 1.3152
EURUSD – 1.1635
Do get in touch if you would like to discuss further.
*Rates correct as at 9am on the date of publishing