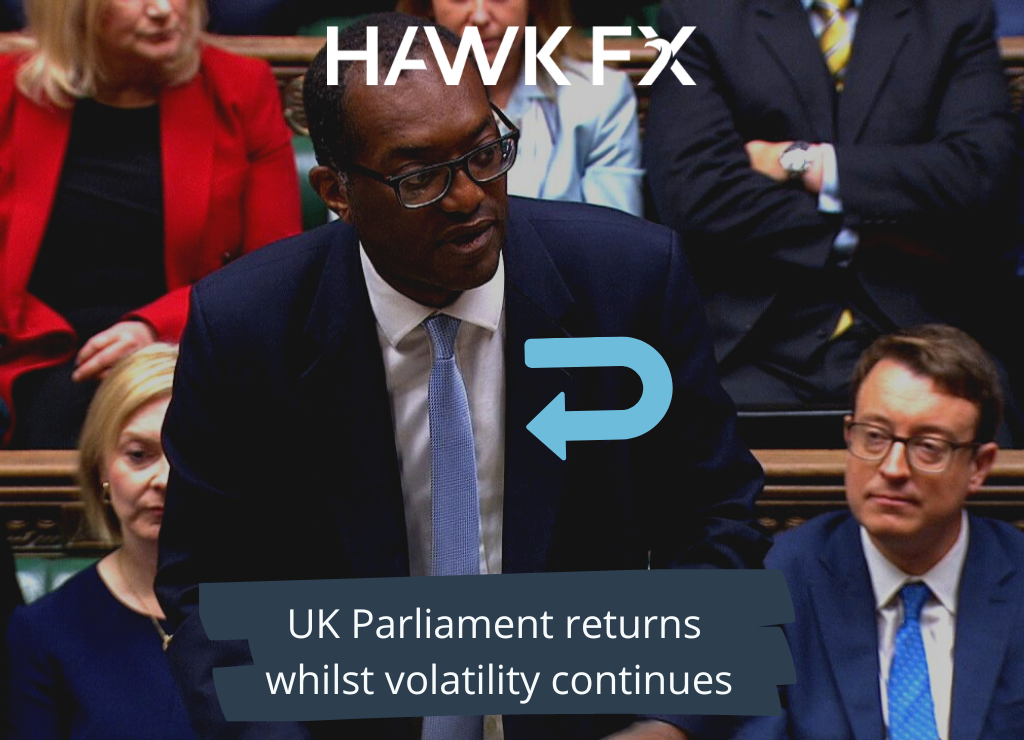 GBP – Parliament returns whilst volatility continues
Parliament returns from the conference recess tomorrow, with the spotlight on Prime Minister Truss's government.  The government decided against the abolition of the 45p tax rate, which was damaging in terms of credibility.  The Chancellor's fiscal plan, with OBR forecasts, will now be published at the end of the month in a further effort to calm markets and to show how the government will balance the books. This information will also be available ahead of the Bank of England policy meeting on 3rd November.  Volatility continued within asset prices, as long-term bond yields rose and the pound fell.
BoE Chief Economist Huw Pill indicated that the government's fiscal loosening will require a "significant and necessary monetary policy response". At the moment, markets are pricing in at least a 1% rate hike by the November meeting. This week, we have several MPC speaking, including Governor Bailey, Chief Economist Pill, Cunliffe, Mann and Haskel. The Bank of England is due to start (re)start the reversal of QE – at the end of the month, after pausing to deal with market turmoil.
The focus this week will be on the labour market and GDP figures.  Recent monthly labour figures have pointed to some weakening in an otherwise tight labour market.  Markets expect a loss of 200,000 on a 3-month basis, though the unemployment rate will likely remain at a very low 3.6%.  Wage growth is expected to continue to rise 5-6%, which is still lower than headline inflation. GDP is likely to show a small fall of around 0.1%.  Although there was a small rise in July, a weaker September figure is expected due to the Queen's state funeral bank holiday.  This may pull the third quarter reading into negative territory.  
GBPEUR – 1.1380
GBPUSD – 1.1058
EUR – Central bank speakers may comment on inflation vs growth
The focus this week in the Eurozone will be on European Central Bank speakers.  President Christine Lagarde and Chief Economist Philip Lane are both speaking twice at different events. Although the September PMI reports confirmed weakening momentum in the third quarter, inflation continues to move higher.  For September, Eurozone inflation was 10.0%. 
The markets strongly expect the ECB to continue to raise interest rates further in upcoming meetings.  We may well see another 0.75% hike at the meeting on 27th October.  This will come despite the fact that business survey evidence suggests that we could also see an overall contraction in the Eurozone in the third quarter.  The comments from the central bank speakers may add more colour to their views on this balancing act. Eurozone industrial production is also likely to suggest a weakening economy. 
EURUSD – 0.9717
EURGBP – 0.8787
USD – FOMC minutes as Core CPI hits 40-year high
This week, the focus will be on the FOMC minutes and the inflation data. Policymakers at the Fed have remained hawkish and markets will be watching the FOMC minutes for clues on how much further interest rates could rise.  The recent dot plot suggested another 1.5% of rate hikes in total.  We may also get an indication of whether the Fed will continue its aggressive hikes at the next meeting on 2nd November.  Recent soft economic data including the ISM manufacturing survey, construction spending and job openings have not shifted the Fed's focus from inflation to growth. 
Inflation has fallen back in the past two months, mainly due to lower energy prices, but it remained high at 8.3% in August. Core CPI inflation suggests that high wage growth is leading to a broader pickup in inflation. September headline CPI will most likely fall again to around 8%, but core inflation is forecast to move up 6.6%, which would be the highest level in forty years. The recent improvement in consumer confidence, helped by lower gas prices, will probably lead to a positive retail sales figure.  Last week, we saw a further 263,000 jobs added in September, with unemployment falling back to 3.5%. 
GBPUSD – 1.1058
EURUSD – 0.9717
Do get in touch if you would like to discuss this further.
*Interbank rates correct at 7 am on the date of publishing.