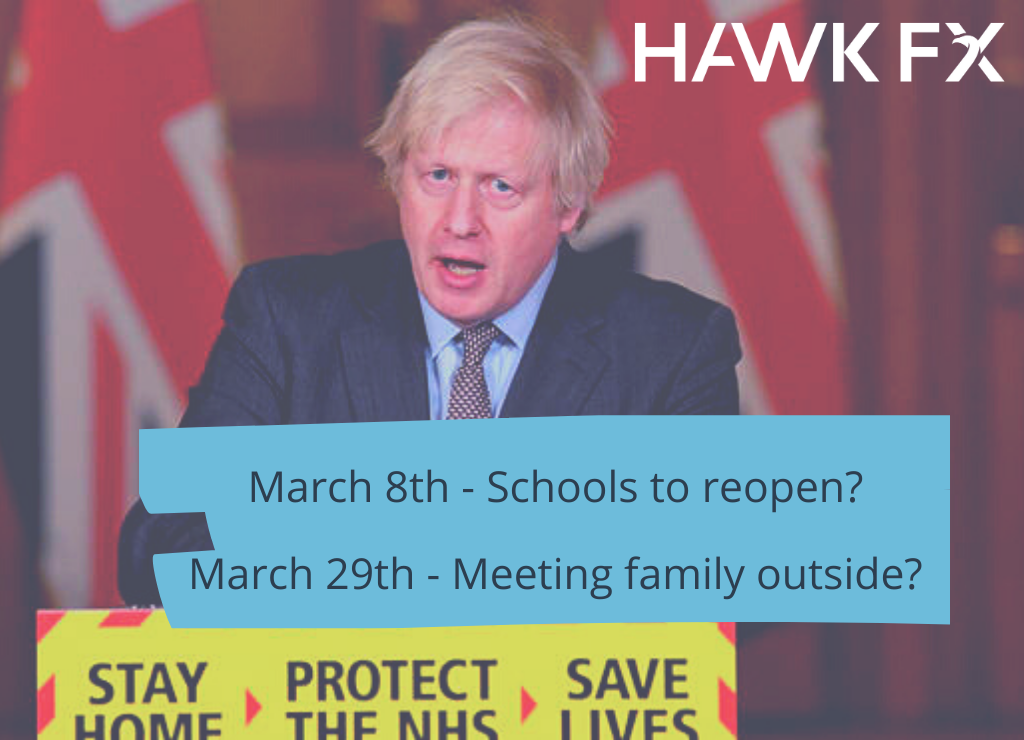 GBP – Johnson to unveil lockdown roadmap
With new Covid cases falling, attention continues to turn towards the easing of lockdown restrictions. Tonight, Boris Johnson will unveil an easing 'roadmap' for England. This is expected to be cautious and prudent.  Media reports suggest that schools will reopen on 8th March.  There are suggestions that restrictions may be eased at four-weekly intervals, reaching near normality by July. Scotland and Wales are reopening schools from next week.
Sterling has continued its strong start to the year. It is currently above 1.40 against the US dollar for the first time in 3 years and above 1.15 against the Euro for the first time since early last year. The UK's swift vaccine rollout has provided positivity, in addition to the lack of major issues post the Brexit deal.  There remain some concerns about teething problems, but this is much less than had there been no deal with the EU.
The main data release this week is the latest labour market report. We expect a further rise in the unemployment rate, but only to 5.1%. The rise in UK unemployment has been relatively small due to the government's furlough scheme. Chancellor Sunak will need to address what he intends to do with support measures in his Budget speech on 3rd March. The CBI retail survey will be watched for an improvement in conditions following the large fall in January retail sales (-8.2%). The PMIs last week showed strong rebounds in growth. 
GBPEUR – 1.1563
GBPUSD – 1.4013
EUR – EU leaders summit
One of the most important events this week is an EU leaders summit on Thursday and Friday. We expect discussions to include the relatively slow progress of the EU's vaccine rollout and joint fiscal stimulus measures. There may also be a discussion of early issues with the Brexit trade agreement and particularly the Irish border. Following that, G20 finance ministers and central bankers are meeting via video link. The outcome is likely to be further co-ordinated statements reiterating that economies will need economic policy support for some time. 
In Germany, the February IFO survey will provide a further indication of whether a spring pickup in economic activity is holding up. We will get further insight into the Eurozone's largest economy with GfK consumer confidence.  Last week, Eurozone manufacturing PMI rose to 57.7 though services PMI remained in negative territory. 
EURUSD – 1.2119
EURGBP – 0.8648
USD – Powell to testify to Congress
Fed Chair Powell has his semi-annual testimony to Congress this week.   He is likely to repeat his message that the US is still a long way from full employment.  He will no doubt say it is too early to discuss tapering the Fed's asset purchase programme. Ahead of this, Treasury Secretary Yellen will speak at a conference. Last week she defended the size of the proposed $2trn package. It is expected that the lower chamber of Congress will vote on it this week.  
February retail sales were much stronger than forecast (+5.3%) and suggest that the economy will grow in the first quarter. Growth appears stronger in the US than in the UK and Eurozone partly because restrictions have been less onerous. Industrial production also grew by 0.9%.
Given the pickup in growth and insistence that fiscal and monetary support will remain, we have seen a sharp rise in yields. Ten-year Treasury yields were above 1.3% at their highest levels in a year. The moves have taken place despite further reassurances from key central bankers that monetary policy will continue to support growth.  That promise of low policy interest rates has seen yields rising further out as expectations are that a strong rebound will fuel inflation. 
GBPUSD – 1.4013
EURUSD – 1.2119
Do get in touch if you would like to discuss further.
*Interbank rates correct as at 7 am on the date of publishing.