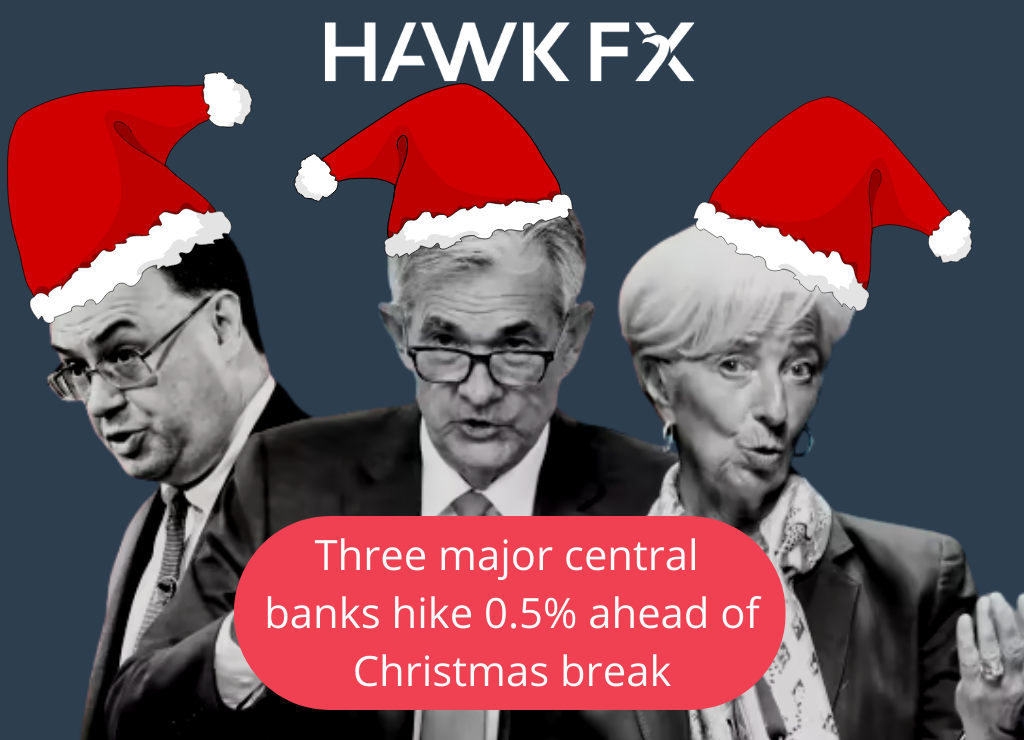 GBP – Dovish split as Bank of England hikes 0.5%
Last week we saw the latest flurry of central bank meetings. The Bank of England raised interest rates again, but by a smaller 0.5% compared to the previous 0.75%. This was very much as expected, though the questions remain over how much further rates will rise and how deep the economic downturn will be. The panel was more dovish and split, with two (Tenreyro and Dhingra) voting for no change and a majority of six members voting to increase the Bank Rate by 50bp to 3.5%. There was a hawkish dissenter, with Catherine Mann in favour of another 0.75% hike.
These conflicting signals from the Bank of England highlight the challenging situation faced by policymakers. The BoE has indicated that higher interest rates 'might be required', though this may result in fewer hikes than the further 1% that markets are pricing in for next year. The forecasts for GDP growth from the BoE were also downbeat and their view is that inflation will fall below the 2% target in 2024. Last week, we saw inflation fall by more than expected to 10.7%. Policymakers clearly remain concerned about risks to growth, with retail sales declining again.
There is a range of data over the festive period, with the CBI industrial and distributive trends this week. We will also see the updated ONS estimate for third-quarter GDP growth. This is expected to confirm a contraction of 0.2%. The fourth quarter growth figures are also likely to be negative, marking a technical recession. The outlook for next year remains poor, with forecasts of a further drop in GDP of around 1%. At the start of next year, we will see the PMI readings for services and manufacturing and Bank of England lending data.
GBPEUR – 1.1465
GBPUSD – 1.2187
EUR – Hawkish ECB raises 0.5% with more to come
The European Central Bank also met last week and similarly to the other major central banks, raised rates by 0.5% to 2%. This was accompanied by surprisingly hawkish comments from President Lagarde. After sounding more 'dovish' at the October meeting, suggesting rates may be close to the peak, this message was far more concerned about inflation. With inflation continuing to be higher than expectations and remaining well above the 2% target, the ECB warned that it is 'not pivoting'. President Lagarde suggested that more 0.5% hikes are likely in the new year.
This week, the German IFO business survey may show a further improvement suggesting that the economic downturn may not be as bad as markets thought. The Eurozone December flash estimate for inflation will kick off the new year, expected to show a fall to just below 10%. This is still a very high level and is only falling slowly from the previous 10.1%. We will also have an early reading on the economy in the new year, with Eurozone PMIs for manufacturing and services.
EURUSD – 1.0629
EURGBP – 0.8722
USD – Fed hikes 0.5%, with a higher peak expected
The US Federal Reserve has provided the clearest policy signals of the major banks. They had hinted that a smaller hike was on the cards and true to form, they hiked rates by 0.5% to 4.25-4.5%. There was a higher median forecast in the Fed's dot plot, suggesting a peak with rates at 5.00-5.25% next year. This is higher than the markets have been pricing. The futures markets suggest a peak in the first half of the year, with rate cuts being priced in during the second half of the year. Overall, it appears that the Fed will raise rates further next year but could be close to a peak.
The next week will see further data including housing starts, GDP and the Feds preferred PCE deflator measure of inflation, which is likely to show inflation falling further to 5.6% for the headline measure. The CPI inflation measure fell to 7.1%, which was lower than expected for a second successive month. Into the start of 2023, we will see the FOMC minutes and the labour market report. We expect it to show a slight fall in the unemployment rate to 3.6% with earnings growth remaining elevated. In a busy first week of the year, we will also see ISM manufacturing and services and factory orders.
GBPUSD – 1.2187
EURUSD – 1.0629
Do get in touch if you would like to discuss this further.
*Interbank rates correct at 7 am on the date of publishing.