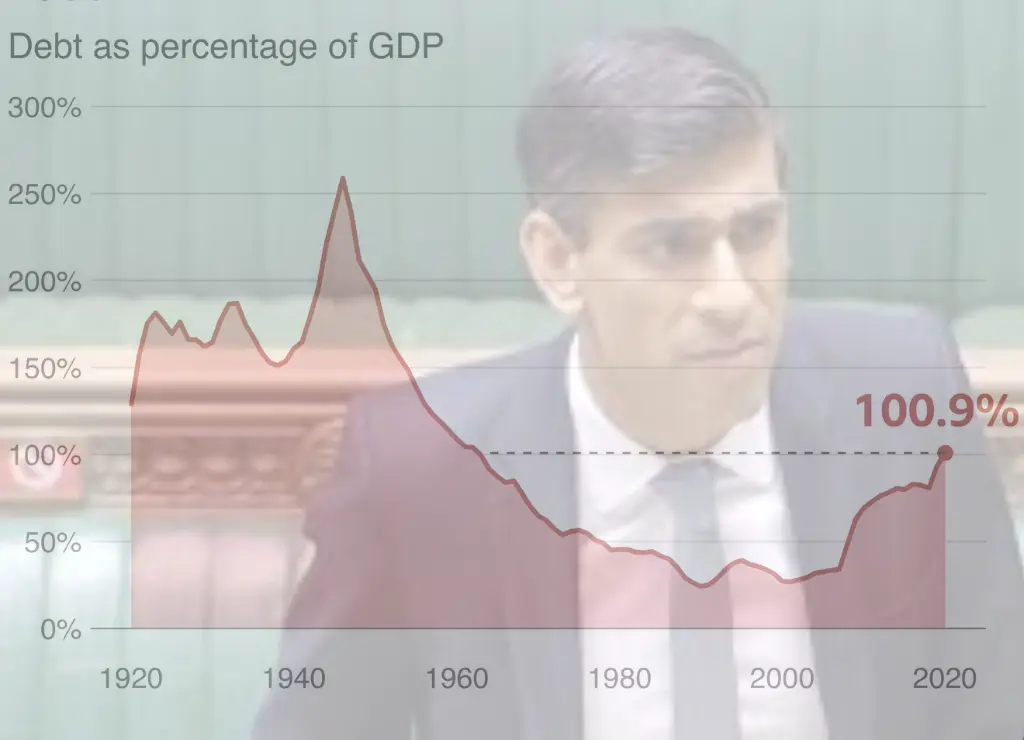 GBP – BoE increase purchases, reduce speed
Last week, the Bank of England's announced a further £100bn of asset purchases. There was some disappointment in the market that the QE increase wasn't even larger. Sterling dropped as a result of the lower amount of stimulus, with the BoE reducing the pace of its purchases.  There was no mention of negative interest rates, though Governor Bailey reiterated not ruling out any options. Sterling fell on the news, whilst UK 10-year gilt yields rose above 0.25% from 0.19%.
Unemployment for April was the same as March at 3.9%, though jobless claims increased.  Retail sales rose by 12% in May though CPI inflation slipped to 0.5%.  Meanwhile, public finances showed a further deterioration with government debt more than 100% of GDP for the first time since 1963. This week, we have PMI data to given an indication on June economic activity.  We will also see the CBI June retail survey which will provide an indication of post-lockdown sales.
Sterling has slipped this week despite a rise in UK market interest rate expectations. We have seen a move below 1.24 against the dollar and below 1.11 against the euro.  Concerns over a lack of progress in UK-EU talks may be weighing on the pound in addition to the reduced Bank of England stimulus. Boris Johnson said that he saw no reason why a deal couldn't be done by the end of July. However, concerns about the situation seem to be rising as we head into the second half of the year.
GBPEUR – 1.1056
GBPUSD – 1.2377
EUR – Data to show pickup in economy
With restrictions continuing to be eased, June data will be watched for further signs of improvement.  This week, Eurozone PMI data will be watched for clues on June economic activity. The May releases saw increases in manufacturing and services, though they remained below 50.  We expect to see a further rise in PMIs, although they may remain below 50. That suggests the economies continued to contract in June but it may just be underestimating activity.  June consumer confidence reading is expected to show a rise to -15 signalling some improvement in sentiment. Germany's IFO survey for June is also likely to show improvement in current conditions and future expectations.  The German ZEW survey showed expectations up to 63.4 for June. 
Fiscal developments will also be closely watched by markets. The EU summit last week seemed to make little progress in agreeing on the EU's €750bn recovery fund. Beforehand German Chancellor Merkel and ECB President Lagarde warned about dire consequences if a deal is not agreed. Leaders are due to meet again in July.  In the meantime, the uncertainty may have a negative impact on confidence in European markets.
EURUSD – 1.1195
EURGBP – 0.9045
USD – Consumer spending picking up
Equities and the US dollar continue to be buffeted between signs of improving economic conditions as lockdown restrictions ease and concerns that covid-19 cases are rising again in some countries. Last week, we saw a sharp sell-off in equities amid reports of new coronavirus cases in Beijing and an acceleration of cases in some US states. Confirmation from the Fed of its intention to buy corporate bonds and reports that the US government is considering a $1trn infrastructure spending boost helped push the dollar and US equities up.
More economic data continue to point to economic conditions improving as lockdown restrictions are eased. Last week we saw much larger than expected rises in May retail sales, up 17.7%. There were also increases in both industrial production and housing starts in May.  The big bounce in May retail sales is expected to translate into a sharp rise in overall consumer expenditure. Other areas of spending are likely to have been much weaker. In particular, many consumer service providers, which account for a large part of overall spending, continue to be locked down. Even so, we still expect a strong monthly rise. The advanced international trade report and durable goods will provide further information on the economy. Both are expected to show improvement from very weak April numbers.
GBPUSD – 1.2377
EURUSD – 1.1195
Do get in touch if you would like to discuss further.
*Interbank rates correct as at 7 am on the date of publishing.